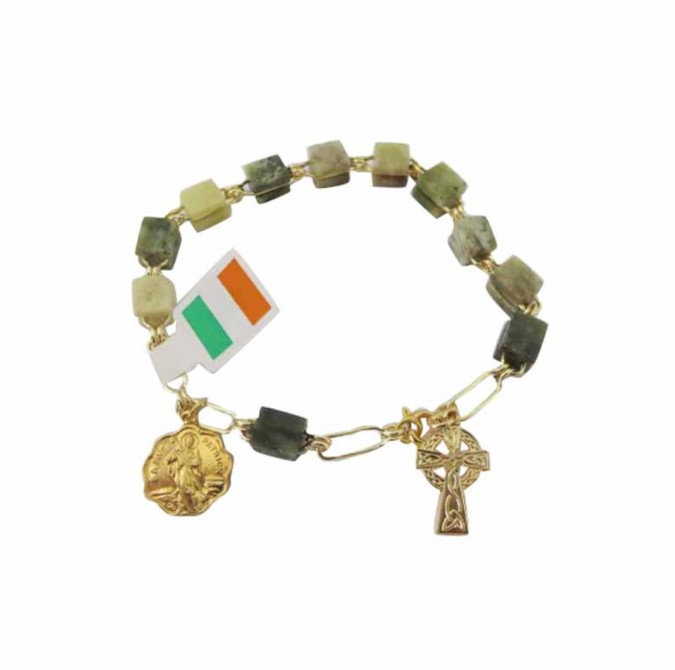 Connemara Marble Rosary Bracelet
---
This beautifully crafted Rosary Bracelet is made from Connemara Marble beads and goldtone chain. When worn on the wrist it is an elegant piece of jewelry ,unfasten it and you have a single decade of a rosary.
Connemara Marble is world renowned for its unique green colour, and its distinctive swirling veins of green, sepia and grey with the added sparkle of crystalline mica. Geologists estimate that the formation of Connemara Marble dates back 900 million years to the Precambrian Age.
This hidden treasure is found in the ancient marble quarries nestled among the 'Twelve Bens' in Connemara, Co. Galway. It is said that this rare marble reflects the ever-changing colours of the Emerald Isle, its landscape, mountains, lakes and coastline and as such no two pieces of Connemara Marble are alike.
Steeped in myth and mystery Connemara Marble is said to bring serenity to those who keep it close and is also the traditional gift between families who vow friendship through generations.
The bracelet comes with two charm medals, St Patrick
 and a Celtic Cross crucifix, it can be worn as a bracelet or used as a single decade of the rosary. This bracelet measures approx. 8.5 inches in length.
---
Share this Product
---
More from this collection